16 Bushel Laundry Carts
The 16 bushel cart designed by Granger Plastics holds essential elements that make this cart superior to all others on the market. With an improved method of attaching the base and casters to the cart, it ensures security of the casters, which will prevent them from tearing away from the cart, thus extending the functional life of the cart and casters. When creating a design to extend the life of the 16 bushel cart, Granger Plastics began molding the base from durable polyethylene materails and began filling with the cart base with foam for extended durability. Other manufactured carts offer bases are made of plywood or other fragile materials, which shortens the life span of a company's investment in its material handling carts.
The Granger Plastics 16 bushel cart can be used for many purposes, from hotels, school campuses, uniform and commercial laundry services, to the scrap yards and waste management industries! Recycling industries are one of the most common areas this cart is used. Due to its ability to easily transport heavy loads, sorting recyclables is a breeze! Its wide variety of uses makes it a common fixture in many hotels, resorts, universities, schools, hospitals, day cares and more! The 16 bushel size is one of the most widely utilized laundry carts in the manufacturing and recycling industries.
The Granger Plastics 16 bushel laundry cart is available in a wide variety of colors standard or almost any shade available by custom order. For the environmentally conscious company, this cart is also available in recycled materials! Customizing for easy identification, this cart can be easily stenciled, numbered, marked or labeled with your company's graphic, decal or logo right on the part! It's even possible to place a RFID chip in it for tracking! This 16 bushel cart has a variety of caster configurations to ensure maneuverability is a breeze. These carts are stackable and nestable for easy shipping and storage adding convenience to efficiency. Rotationally molded polyethylene provides a smooth practical multi-purpose cart that will improve workplace efficiency.
16 Bushel Laundy Cart Dimensions
Capacity (Pounds) 600
20 Cubic Ft. Capacity
Outside Top 42" L x 34" W
Bottom ID 38" L x 29" W
Overrall Height 39" (with 5" casters and poly foam filled base)
16 Bushel Cart Features
Nestable
Easily cleanable, no sharp corners
5" caster standard
Available in USDA/FDA approved materials & recycled materials
Chemically resistant- Call for chemical compatible list
Colors at no extra cost! (Minimum Quantities apply)
Available with a wide range of drains and fittings
Available with anti-microbial and anti-fungal protection
Capacity (Pounds) 600
20 Cubic Ft. Capacity
Outside Top 42" L x 34" W
Bottom ID 38"L x 29"W
Overall Height 39" (with 5" Casters and Foam filled poly base)
16 & 20 Bushel Laundry Cart Video
See the 16 & 20 bushel laundry carts manufactured by Granger Plastics in action, as it displays its ease of handling and multi-purpose function. The carts feature smooth interior walls, which allow for easy cleaning and no snagging of the laundry or linens in the cart. The 16 & 20 bushel laundry carts also feature an industry leading .220" wall thickness, that add for extra heavy duty laundry cart use!
Click on any of the Thumbnail images below to see the large view open
For more information on 16 Bushel Laundry Carts: Click Below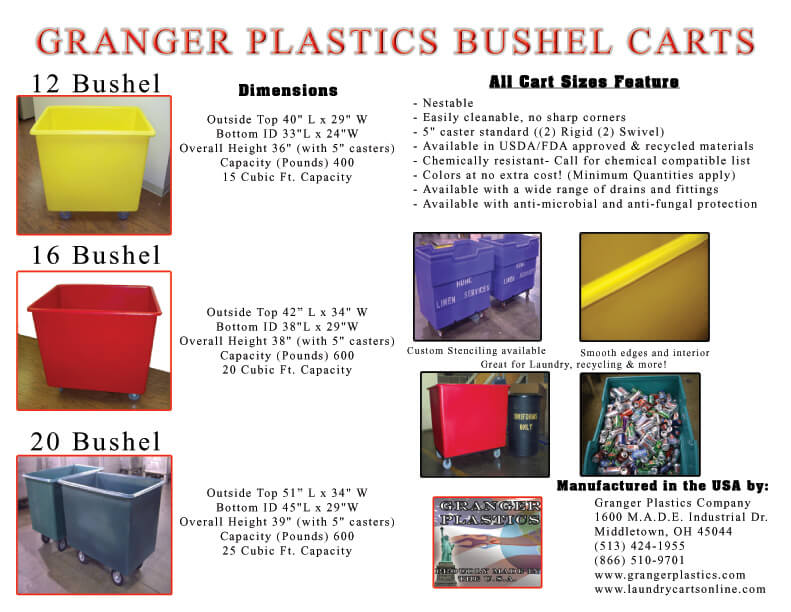 20 Bushel Carts | 16 cubic foot cart | Laundry Carts