Custom Rotomolded Products
Many rotational molding companies specialize in certain areas of rotomolding production. Typically, many of these entities focus on one segment of products such as material handling carts, toys, playground equipment, waste management or other potentially rotationally molded products. While many of these companies state claims that they can provide high quality custom rotomoulding services or have a separate division for custom rotomolding, very few companies truly specialize in providing high quality custom rotational molding services. Not completely understanding the nuances of the process, many incorrectly think or are led to believe that all products are molded under the same conditions- cook times, oven temperatures, major and minor axis rotation, cooling and more. However, this is NOT the case with custom rotomolding.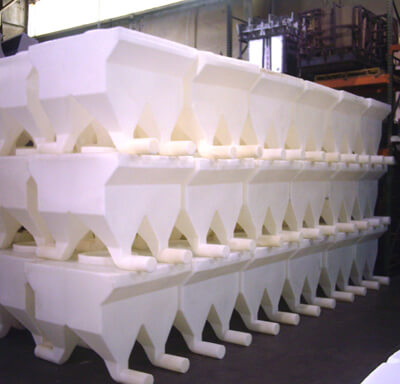 Custom Rotationally Molded Tanks
Granger Plastics Company provides a wide variety of high quality, custom rotomolded solutions. Providing a specialized focus on custom rotomolding since 1994, Granger's over 2 decades of rotational molding success is centered around the company's high quality driven focus on its growing customer base of custom rotational molding needs. In the last nearly 25 years, Granger has provided leading custom rotomoulded solutions for a wide variety of industry, including but not limited to:
Aerospace
Agriculture
Chemical Manufacturing/Processing
Communications
Construction
Correctional Institutions
Defense
Energy
Food Manufacturing/Processing
Furniture
Health Care
Hospitality
Housings/Covers
Lawn & Garden
Manufacturing
Marine
Material Handling
Mining
Nuclear
Oil & Gas
Professional Sports
Recreation
Recreational Vehicles
Safety
Technology
Transportation
Waste Management
Water Quality
Complete Rotomolding Source - All under one roof!
Granger Plastics offers complete turn key custom rotomolding services by offering customers all necessary integral rotational molding steps in house including rotational molding design, aluminum mold fabrication for rotomolding, rotational moulding, secondary trim & Assembly, packaging and even warehousing and drop shipping of products to your customers!