275 Gallon IBC "The Avenger"
The Avenger is a 275 gallon, all plastic intermediate bulk container, featuring a hopper bottom design and incredibly rugged strength, as it was designed as a storage and material handling solution for 2.5 specific gravity materials. These totes vary in use from chemicals, fluids to dry goods such as food ingredients to construction materials. The durable rotationally molded construction of the intermediate bulk container allows for years of service in effort to help maximize efficiency, safety and profits.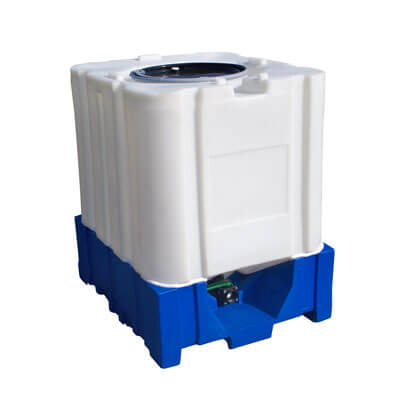 The Avenger, molded from extremely durable polyethylene is inter-stackable with most disposable units, so it can adapt to nearly any system or schematics. Touting an incredible 5/8" wall thickness, the Avenger is among the most durable of any tank molded on the market.
The Avenger weighs in at 280 pounds and holds up to 275 gallons and has a totally smooth interior wall with a hopper bottom for positive drain. For easy handling this unit has been designed to have a four way fork lift access and the 23" opening provides for easy clean out and filling of the tote.
High quality long lasting intermediate bulk containers made to fit an exact purpose can save both time and money. Custom intermediate bulk containers can also be designed and manufactured for specialized purposes. Let Granger Plastics Company help your business develop an IBC system that works most effectively for your application!
Click on any of the thumbnail images below to display the larger image in the 275 gallon IBC Image Gallery.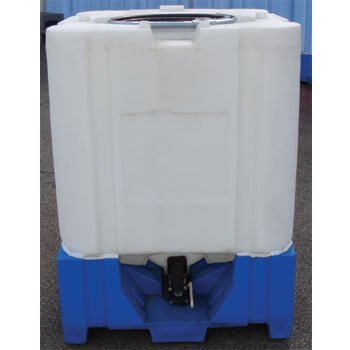 275 Gallon Avenger Intermediate Bulk Container Features
23" drum lid opening for easy cleaning and access
2" polypropylene ball valve
Inter-stackable with most disposable units
Four-way fork lift access for easy handling
Capable of storing 2.5sg materials
60 units per 53' trailer!
Incredible 5/8" wall thickness of Prime Virgin polyethylene
For more information on the 275 Gallon Avenger Intermediate Bulk Containers: Click Below